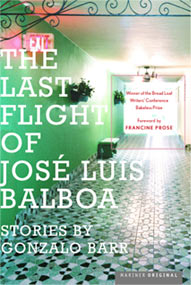 Buy "The Last Flight of José Luis Balboa"
Books and Books
amazon.com
bn.com
booksense.com
(at Booksense, enter your zip code and find the book
at an independent bookseller in your area.)
About "The Last Flight of José Luis Balboa"
Set in vibrant, multicultural Miami, "The Last Flight of José Luis Balboa" is an absorbing collection of short stories from a gifted writer. Gonzalo Barr captures this international hub city in all its roiling guises, from the opulence of South Beach to the ferocity of Little Havana. Barr introduces us to unforgettable characters – an unscrupulous newscaster, a Lincoln Road bar manager, a beautiful but cruel teenaged heartbreaker, and the title character, a suicidal Latin pop star – in situations that teem with humor and brutality, absurdity and poignance. This remarkable debut offers a vivid portrait of a city defined by a blur of cultures.
Praise
Times Literary Supplement
"...[a] brilliant short story collection..."

L.A. Times
"Gonzalo Barr's pitch and timbre is absolutely perfect...the stories sparkle with daily ritual, along with the bonus (beyond pleasure) of a spirit-cleansing kindness."

S.F. Chronicle
"Barr...has a clear knack for generating fresh and fertile scenarios...[His] list of high-quality premises lengthens as the book does."
Entertainment Weekly
"Set in Miami, these nine stories are an entertaining end-of-the-mojito-season read. The first seven tales are amusing enough to tide you over till the last two, more intricate gems, including Gonzalo Barr's title story, 'The Last Flight of Jose Luis Balboa,' about three people whose lives become interconnected, a la director Alejandro Gonzalez Inarritu's films."
Miami Herald
"Confronted with this most inexplicable of cities, Barr's characters have the courage to move and get on with their lives, no matter how bizarre, painful or even tragic the circumstances of those lives may be."

Publisher's Weekly
"Barr demonstrates fine storytelling with a good ear for nuance"
"Engaging, funny, highly enjoyable...With their deceptively modest authority and just as deceptively easy charm, these stories draw you in."
— from the foreword by Francine Prose, author of A Changed Man
"Captivating . . . Stories that can't be stopped, that need to be told. Gonzalo Barr's ear for dialogue and eye for character are unfailing. Each story illuminates yet another corner of the human heart."
— Julia Alvarez, author of Saving the World
"A mesmerizing collection of the first order. It's hilarious and it's harrowing. The stories here are exhilarating to read; some are breathtaking and achingly beautiful. This is a dazzling literary achievement."
— John Dufresne, author of Johnny Too Bad